Investment casting using Aluminum
Aluminum is one of the metals being used for various purposes since a very long time. It is the second most widely used metal after iron. A global production and usage of over 50 million tons of aluminum is recorded in the recent years.

Its use has spread into every corner of product manufacturing and usage. It is found as a component in many fields like automobile, food and beverage containers, construction, packaging, magnets, utensils, coins etc.

With the wide range of its usage aluminum also found a place in the hardware industry due to some of its properties like general density, malleability, and light weight.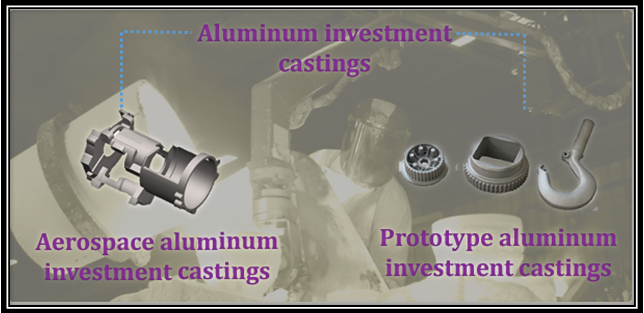 In the field of aluminum castings have a special role to play. They show special abilities and are of a higher requirement too. They have a varied usage and some exceptional purposes.

Aluminum investment castings are majorly of two types.
Aerospace aluminum investment castings
Prototype aluminum investment castings
Aerospace aluminum investment castings: they are the parts of the aerospace vehicles like space crafts, planes and helicopters that are made of aluminum through the investment casting techniques.

Aluminum has a special place in the aerospace hardware parts because of its properties like low density than other metals and also the toughness. It can provide the necessary low density to weight ratios necessary in the aerospace industry.

Prototype aluminum investment castings: they are the prototypes of some hardware machinery or other elements whose structure and physical properties are being tested. Aluminum is relatively easy to cast and can replicate the steel like structures.

So, Investment castings are a way of prototyping and testing the structures before making the original ones from scratch. Testing of structures can become very easy this way.

It is done in a process similar to that of steel and titanium. The advantage comes from the fact that melting temperature of aluminum is far less than that compared to both steel and titanium.

This advantage makes it relatively easy to cast aluminum and also to use aluminum castings as the alternatives for both titanium and steel where ever possible. Also being an economically cheap metal, aluminum can serve many of the purposes within a lower budget scale than normal.

Over the years, aluminum investment castings have gained a lot of importance and tend to find many new applications day by day. With the special features and qualities aluminum has and also with the capability of forming useful alloys it is becoming a widely used product.